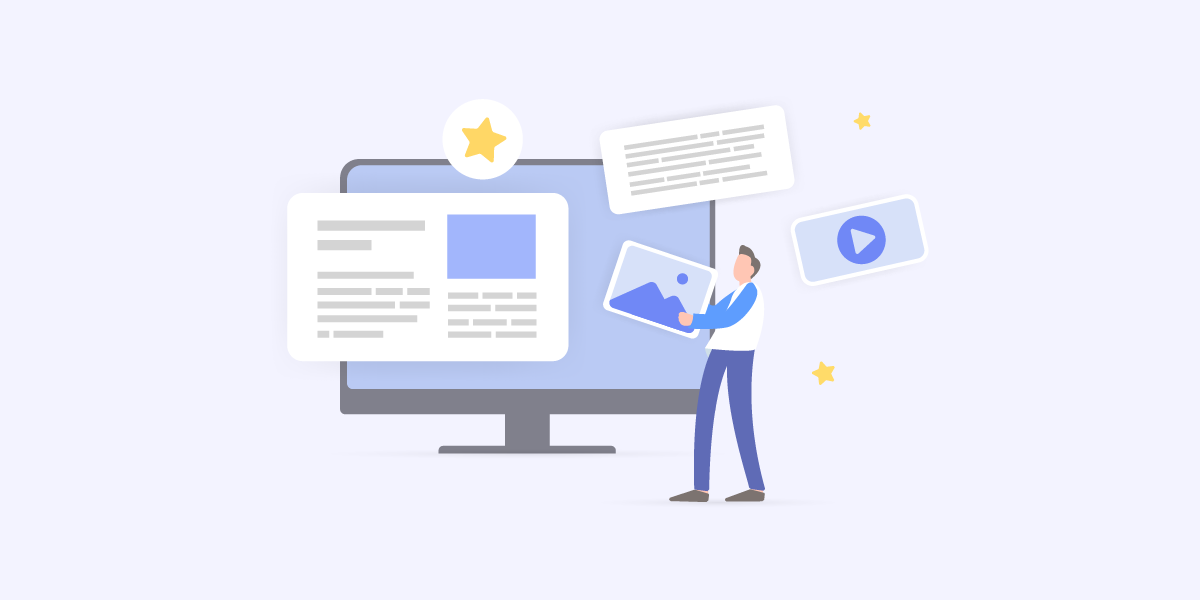 Content personalization or content localization refers to the creation of unique, relevant and customized content for a specific audience. It helps to improve campaigns, increase conversion rates and grow engagement in marketing. In short, content personalization means tailoring content for specific customers based on their profiles or preferences.
Why the need for content personalization?
Customers these days expect personalization in their online interactions. Don't overwhelm them with numerous choices. That will only make they lose interest faster. Most people find browsing the Internet in search of goods and services that meet their requirements to be a tedious task. Just present them with a curated selection of items based on their previous histories on the site.
In addition to fulfilling customer expectations, content personalization is essential to assist clients in avoiding option overload.
How to get started with content personalization?
Content personalization is impossible without collecting some usage data. More personalized online experiences are made possible by the information on how users navigate a website and make purchases online.
Businesses can use a variety of approaches to personalize contents. It all depends on their business objectives and requirements.
Personalization by industry or vertical
Let's say you are a software development company. You specialize in e-commerce apps and websites for retail businesses.
You can personalize your newsletters, ads and website to highlight your expertise in the e-commerce development field. This way, a retail company looking to start their online presence would be more attracted to your customized content.
Leveraging IP geolocation for personalization
IP geolocation can return the approximate location for any web visitor. Geolocation providers like IP2Location has IP geolocation data which can be used to analyze market behavior.
It helps companies to optimize their marketing campaigns with sales, promotions, and discounts targeted at customers from specific regions. One benefit of regional personalization is the ability to have promotions catered for local seasonal holidays. This can help to maximize revenue for the company as a whole.
Persona-based personalization
By asking some simple questions, it is possible to group users into broad persona-based categories. When onboarding a new customer, it is good to present questions like what are your job roles and whether you are a power user or decision maker.
Websites can use this persona-based data to highlight the features of the website that is more pertinent to that group of users. Many businesses stress the need of creating buyer personas since it is a successful strategy for better user engagements.
Getting to know your customers better, the issues they face, and the factors that drive them, can help you to create contents that they can meaningfully relate to.
Personalization based on purchasing stages
Websites can benefit a lot when they monitor the progress of a buyer's checkout process. Did the customer abort their purchase after a certain stage or page? Such information can be helpful to determine if there are any stumbling blocks that a user may encounter during checkout.
Helping to identify the issue faced by the buyer and to push them towards the next stage until they finally complete the purchase is the ultimate goal. Often, it is as simple as a change of mind or they saw another similar item at a cheaper price.
The merchant can analyze this data and then take remedial actions to nudge the buyer to finalize their purchase. Actions such as sending follow up emails or presenting a discount voucher to entice the user to return can increase sales conversion. Online stores also frequently prompt the user if they forgot checkout their cart that contains some items. Busy people often juggle multiple tasks including online shopping, therefore it's inevitable that they will sometimes forget to finish their checkout.
Conclusion
There is no doubt that personalization can help to boost user engagement. A higher user engagement usually leads to higher sales conversion, i.e., more revenue for the company.
As the desire for personalization rises, more marketers are seeing the value of concentrating their efforts on enhancing their customers' experiences. Any content can be customized to fit a specific target audience. Many content personalization strategies can be adjusted to a company's needs and resources.